You'll have to forgive me, or perhaps not as the case may be, but I have been rather taciturn on the blog of late. There have been few posts about writing because I have been busy writing. Few posts on Lovecraft's stories because I have been busy reading things that are actually fun to read, and few random posts about random things because I have been busy being rather randomly busty between work and writing. (and a mild case of depression that reared its head a month or so ago.)
Among the randomness, I was playing with Giffy and made the Scar of Avarice gif below…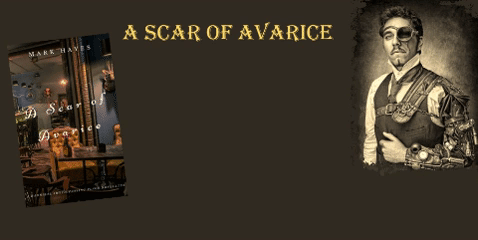 Because procrastination…
However, such mild randomness aside I have exciting news ( for me, not necessarily for you, but hey you know what, hope springs eternal…)
Today in a busy lunch hour I finished compiling, recompiling and generally frustratingly faffing about and 'A spider in the Eye' is now actually a book. Indeed I managed to get it to the point I was happy enough with it to order the final proof copy, which will arrive sometime after Friday. So after three years of work, (more or less on and off with other projects) the first full-length Hannibal Smyth Novel will be ready to unleash upon the expecting (probably uncaring) universe early next year.
I suspect I may mention it a few times once I get as far as having a release date…
The sequel, which is about 70% written will follow it before the end of next year and hopefully as soon as the summer.
So exciting times (for me) hopefully for the occasional reader of this blog who have also read one or more of my books previously and is looking forward to some more.
Normal blog services will resume shortly…