Hi, its been a while…
Of cause, you may not of noticed, but the Passing Place has been on something of a hiatus. Real life has been throwing curve balls and writing blog posts has been thrown somewhere down the bottom of 'the list of important things I need to get done'.
But occasionally its nice just to check in and say hi, so this is me checking in and saying hi.
Harvey and the duckmen…
I've been involved with 6E's Harvey Duckman anthologies since day 1, back then they planned a one off anthology of scifi, fantasy, horror, steampunk and general weirdness, written by fifteen different writers and asked me to submit a story. Which I did.
That original idea has grown and grown, into what is currently seven volumes of the main series and two specials (Christmas and Pirates).
Volume one is now even available in hardback…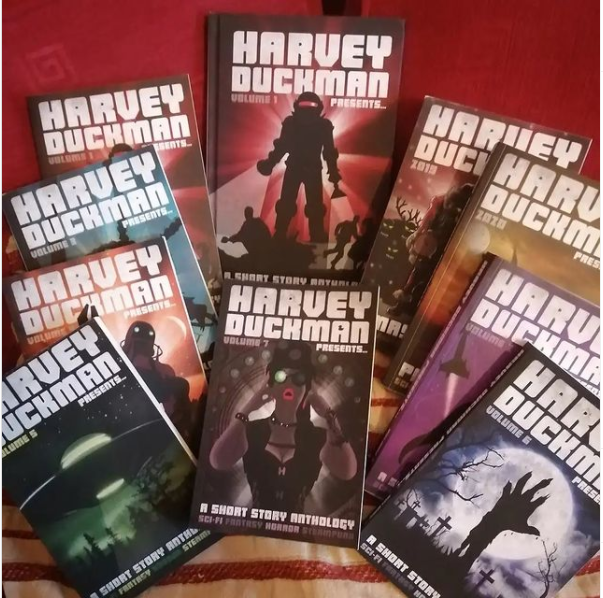 But they are not stopping there, volume eight is due out in the next few days, and i'll post the cover of that little delight when I finally get to see it. As with all the others, because they keep asking me back, there is a story in volume eight written by yours truly, and I am really looking forward to hearing what people think of a my character, Lucifer Mandrake court magician to Victoria Sax-Coberg, of whom there will be more to come…
Hannibal Smyth
Speaking of that first volume of Harvey Duckman, it was almost the literary debut of old Hannibal himself. My story in volume one The Cheesecake Dichotomy was written while I was still working on the first Hannibal novel A Spider in the Eye and when I submitted the story early in the summer of 2018, had the first Harvey been published shortly after then it would have been. But that first volume of the anthology took a while to put together and in the mean time Hannibal debuted in my novella 'A Scar of Avarice,' and 'A Spider in the Eye was finally published a couple of months before the first Harvey made it to the printers. Chronologically however 'Cheesecake' remains the first complete Hannibal story and one that's more important to series than many might assume.
But back to Hannibal, I said way back in May that the third novel was written and I was on with the second draft. This remains the case, my over optimistic estimate of having it done and dusted by now has been derailed by life. But it's progressing and I'll hopefully be through with the all important second draft by the end of next month. The Squid may not entirely be on the shoulder, but its crawling its way up there.
This third volume nicely rounds off the first trilogy, and the Hannibal that goes on from there will be a little different after all he has been through. Coincidently, as I was talking about HD1, 'A squid on the shoulder' is heavily influence by that first Hannibal story from way back in the first Harvey Duckman, with the unexpected but I hope much anticipated return to the series of Henrietta 'spanners' Clarkhurst, as Hannibal finds himself on the island of Doctor Musk. Not that you need to have read 'The Cheesecake Dichotomy' to enjoy 'A Squid on the Shoulder' but the fall out from 'the cheesecake incident' as its still called in the members bar of 'The In's and Outs' looms mightily over this third novel and the previous novels in the series.
The Maybe's
Back at the start of the year I was talking about getting three books out this year. This looks a forlorn hope now as life has got in the way in ways I always hoped it never would, but I am not going to rush to finish a book that's not as good as I can make it and life ain't going any easier on me right now so the best I can do is give you an update.
The second novel in the Maybe series is still in its first draft and has been slow going, but its not been forgotten and hopefully Gothe will make an appearance early next year.
The Lexicomicon is still in the works and the working drafts are with my editors, so hopefully more news on that soon
And finally, the Elf Kings Thingy is not forgotten either, but bringing out an episode every week has been , I will get back to that tale before too long.
Anyway that's all for now, I hope this finds you and your life in good shape. Much love to all
Mark